Post by tristanknight on Jul 31, 2020 2:45:19 GMT
Generals used: Guderian, Rommel, Graziani, Nimitz and Dowding. Generals/tech maxed.
Note: This conquest can be done with four generals. I'd suggest Guderian, Rommel, Konev and Graziani or a general that's almost as good as them, such as Leeb if you don't have Konev.
Starting off as 1943 Finland, we have two starting units. An infantry unit with general Mannerheim and a single stacked howitzer. Move the howitzer close enough to attack Leningrad, move Mannerheim one tile behind him.
Coordinate an attack with Germany and Leningrad should fall within a few turns. Try and capture the city. It will help with income. I left my starting howitzer on Leningrad.
When I had the funds, I built a triple stacked medium in Helsinki and put Graziani on it. He will assist in the siege of Leningrad.
TURN 1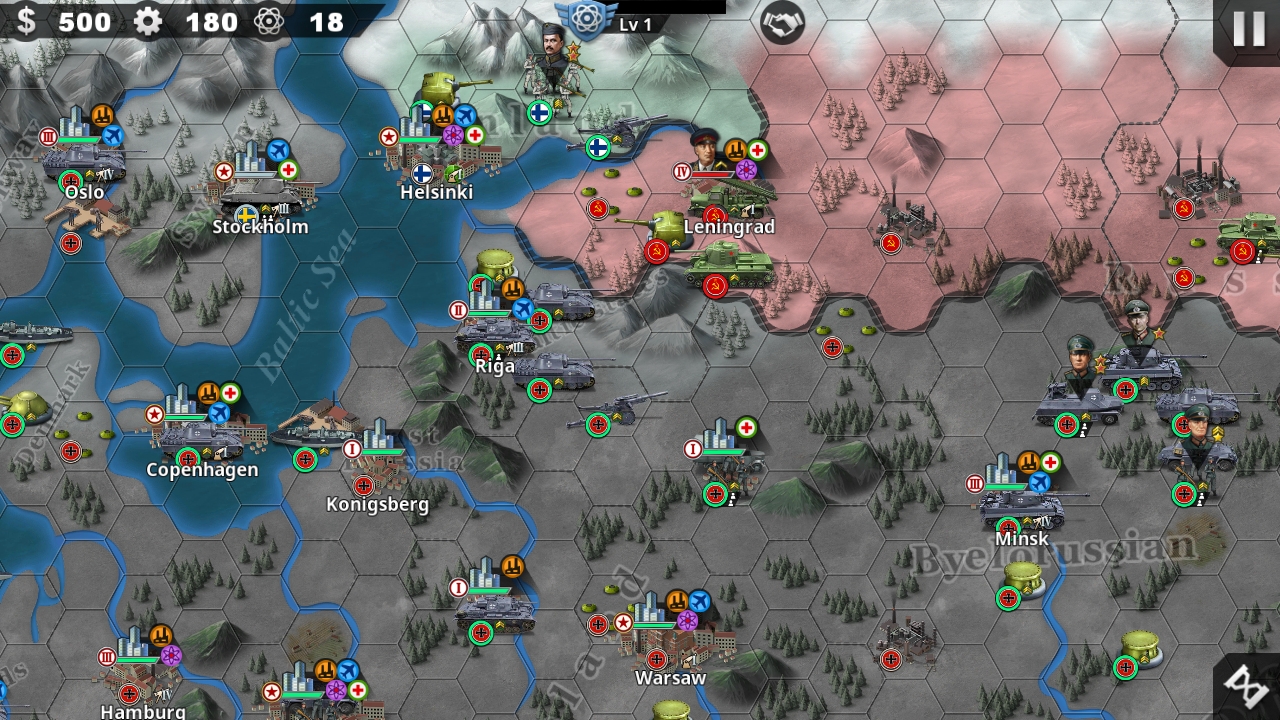 After capturing Leningrad, I immediately send Mannerheim and Graziani to defend Minsk. This is crucial as it will allow Manstein to spawn. In my conquest, he spawned on turn 9. This is important because his spawning will help greatly in the conquest, but still it's wise to send units to support him.
TURN 6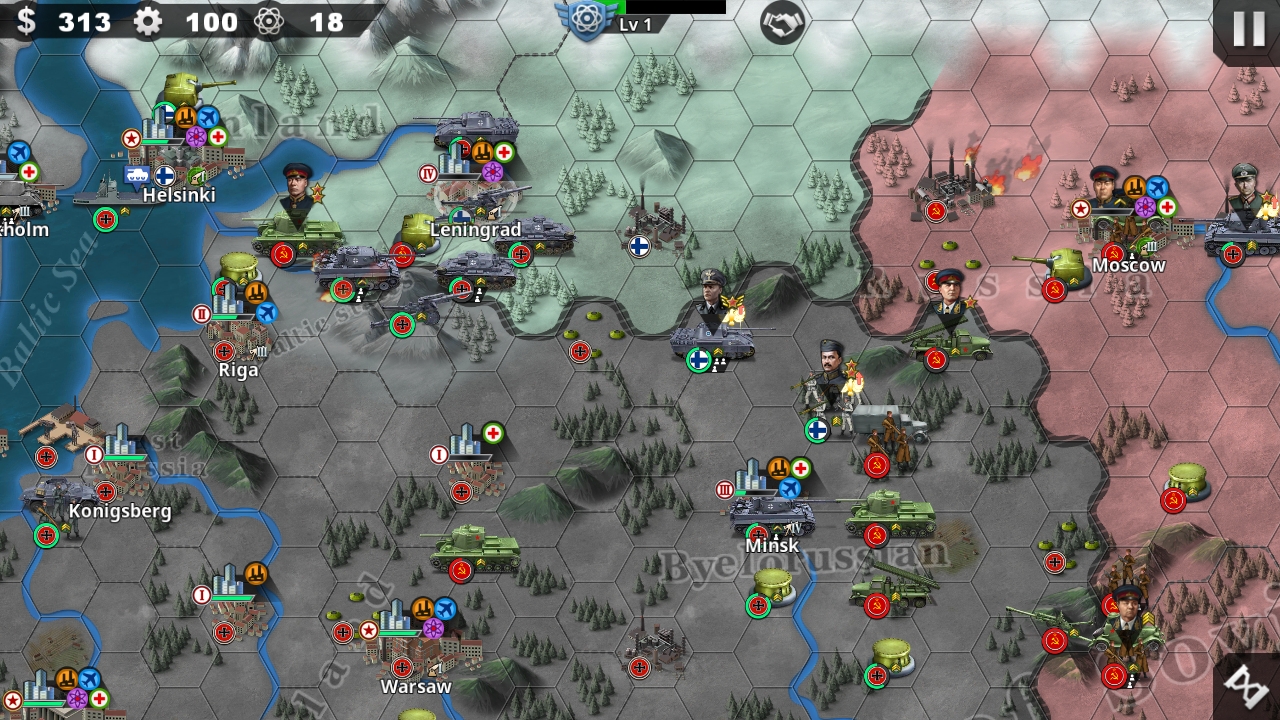 After I saw that Minsk's defense was successful I sent Mannerheim to Moscow to capture it. The Germans had captured it first but I took it from them, because we need that level 3 factory.
And we can see that Manstein has spawned. He will typically move in a east-southeast direction.
TURN 9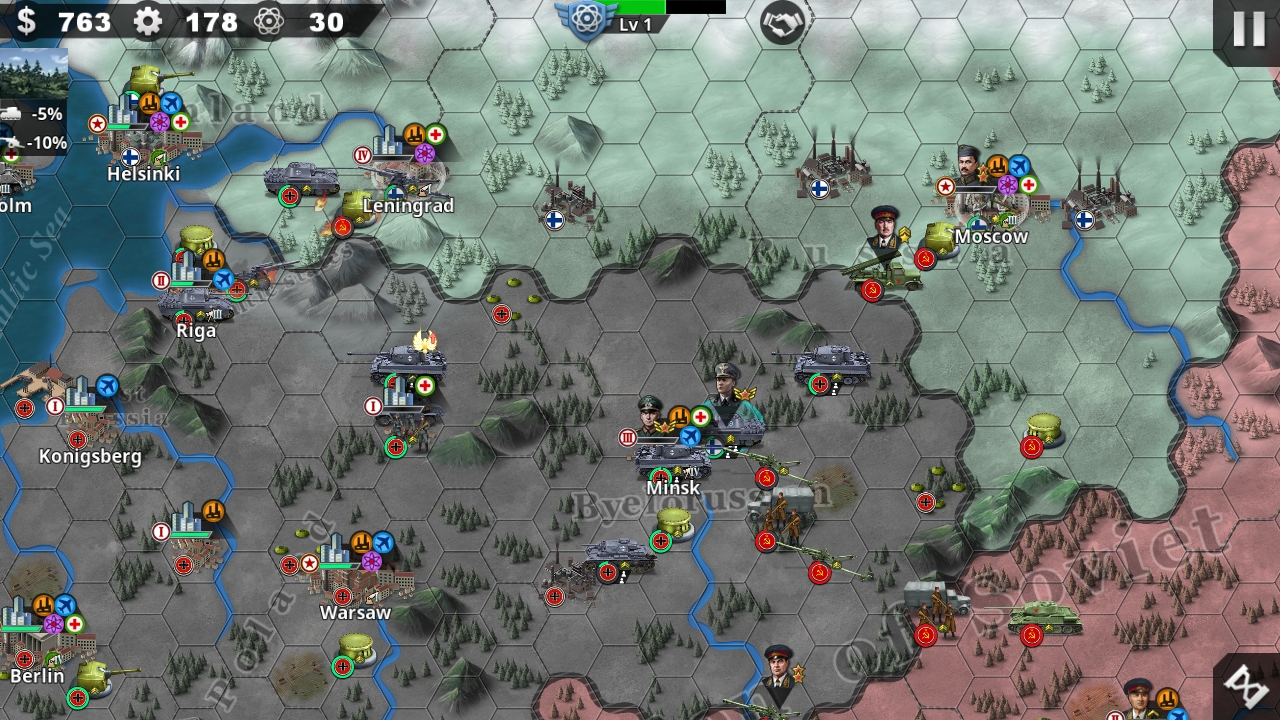 After capturing Moscow, I had the funds for a triple stacked heavy and I put Guderian on it. I sent him west to Spain, as you can see why in the image, Canada has A Coruna.
After Guderian, I built a second triple heavy and put Rommel on it, he will move directly east with Mannerheim, taking cities.
Graziani, went southeast taking cities. I may have sent a single infantry unit with him, Graziani would reduce cities to 0, the infantry unit would take the city.
TURN 20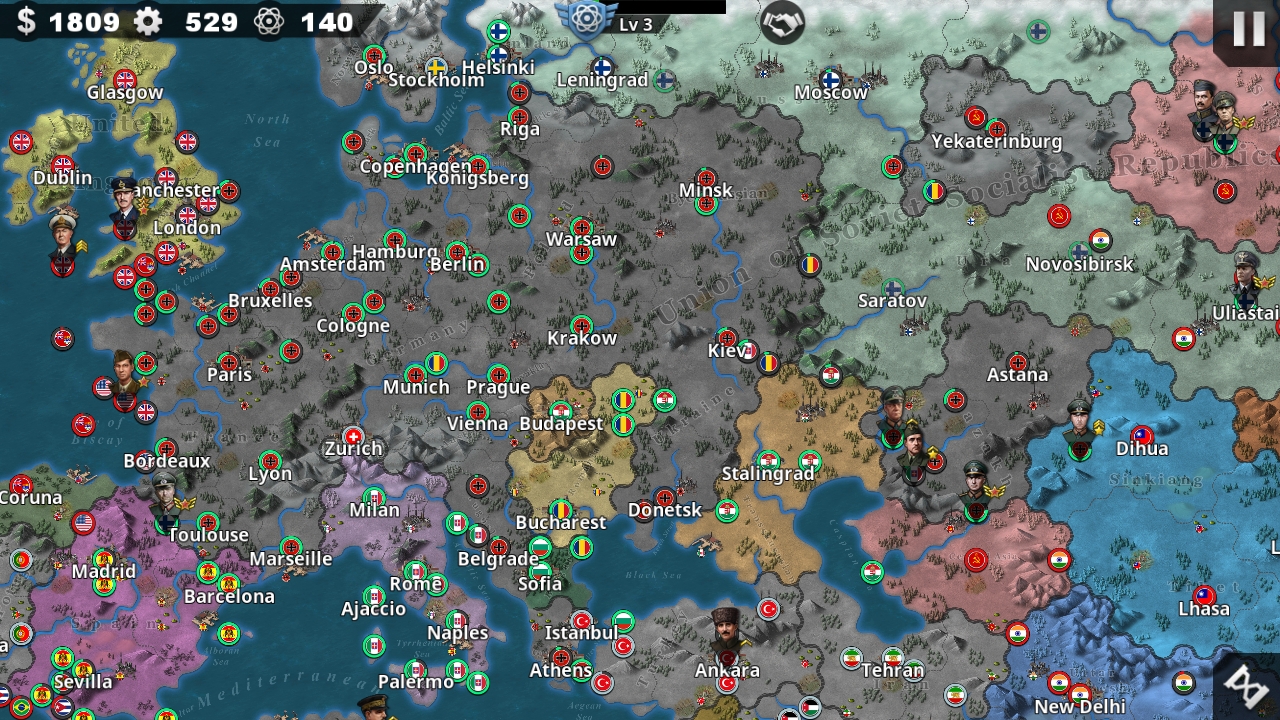 After capturing A Coruna from the Canadians, I built a triple stacked howitzer and put Konev on it. He will lose some hp due to carriers and other naval units. That's why you shouldn't keep your general on a city, otherwise he'll die faster. I kept medium tanks on the city, some single stacked, some triple stacked. Depends on available funds.
After reaching the Japanese border, I move Graziani south through former ROC, taking cities with ease. Manstein went south into India.
Rommel and Mannerheim continue all the way to the eastern coast of Russia. Mannerheim perished in the last city of Russia.
TURN 30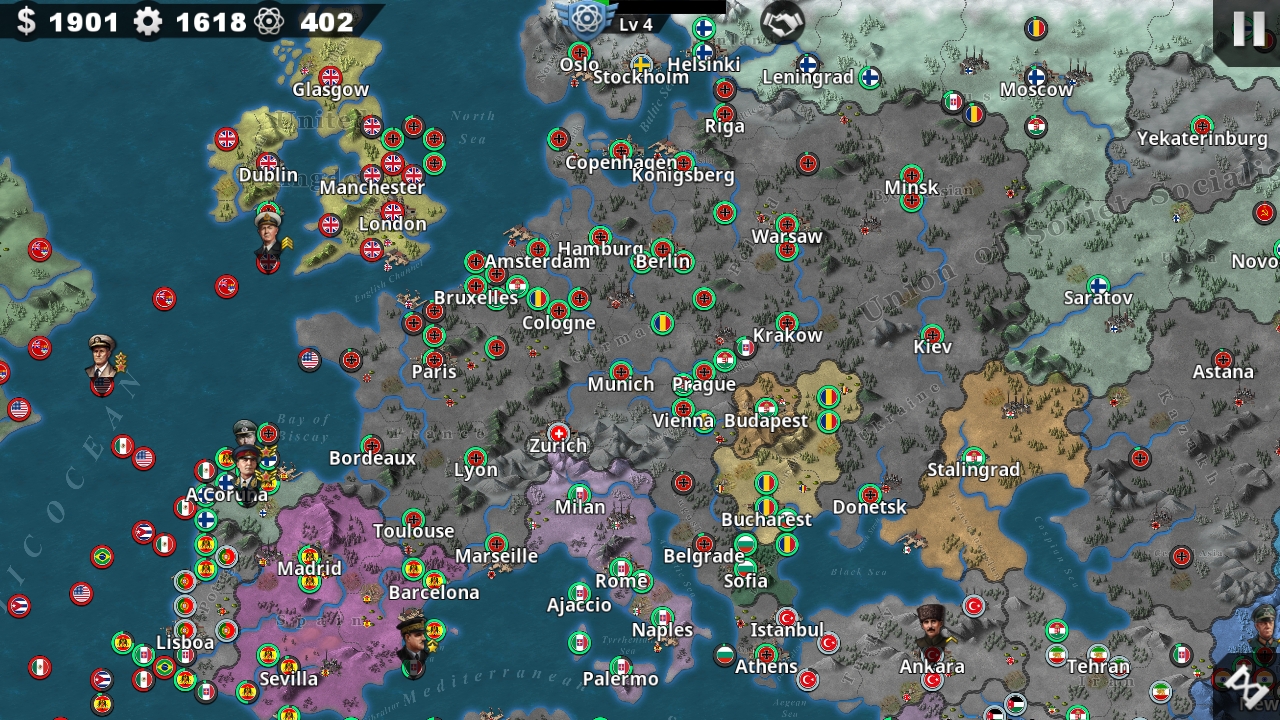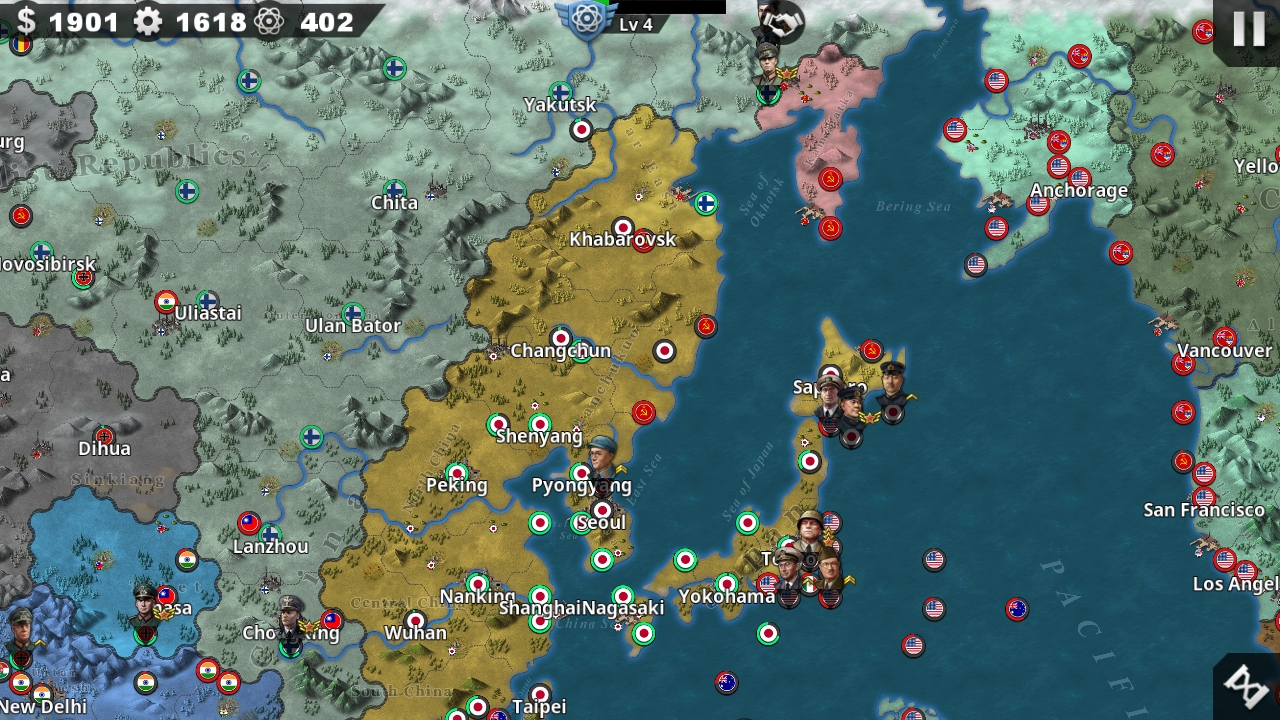 After Russia's defeat is imminent, Rommel hung out for a few turns sniping land units in the water. After that, he crossed the water and landed to the north of the northern city in Alaska. He captured it, then seized Anchorage and moved his way into Canada.
On the east coast, I moved Guderian north into Germany to the city northwest of Paris, then went towards England. My intention was to go after England but Germany ran rampant through there, so I just decided to head for Canada.
The port near A Coruna, I built three triple stacked subs to clear out enemy naval units. After that they will move ahead of Guderian to clear the way of any threats.
The port near Jakarta, I built a double stacked cruiser and put Nimitz on it. This general isn't really necessary, I just did it because he hits hard.
Graziani will reach the coast near Thailand, and I decided to sent him to Midway. Midway and Hawaii can take several turns to get to, unless you're Japan, so best to do it earlier to save a few turns.
Manstein has fulfilled his duty, about this point I'm about to be missile capable. I would use strategic bombers and missiles to take countries out in this order:
From Ottawa: Canada, mainland USA.
From Houston: Mexico, Cuba.
From Havana: Brazil
From Brisbane: the rest of Australia
TURN 45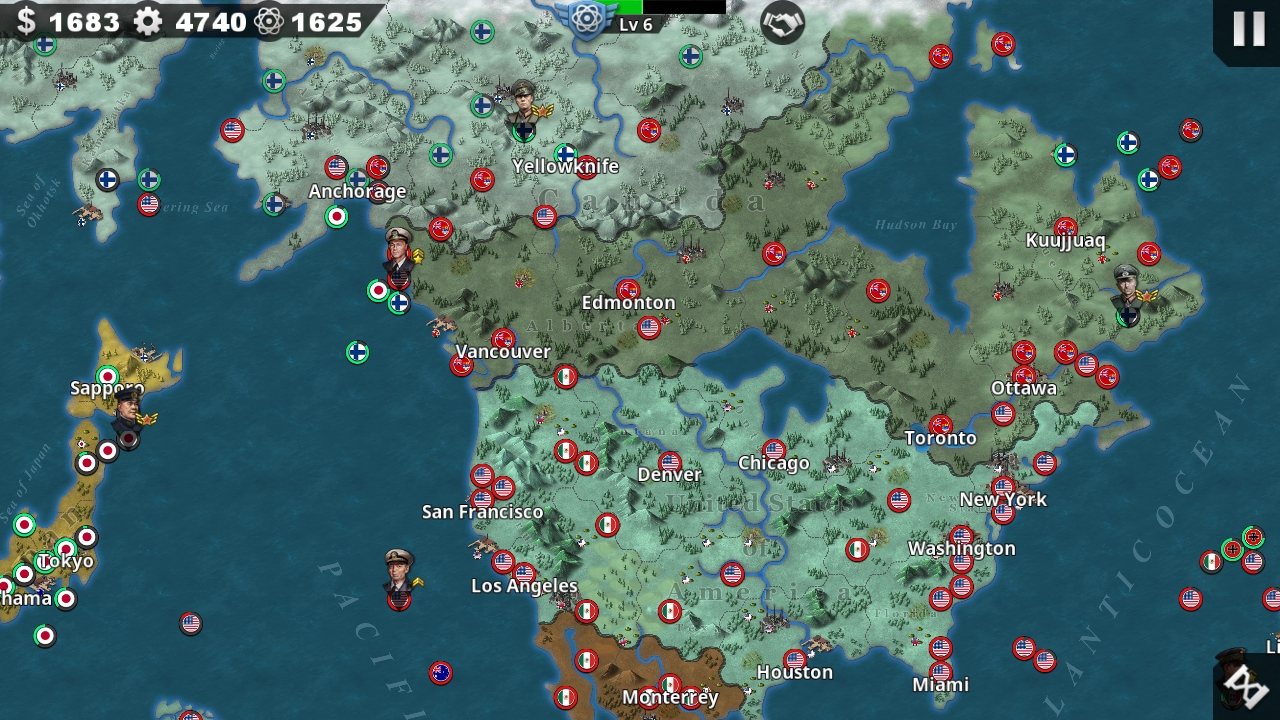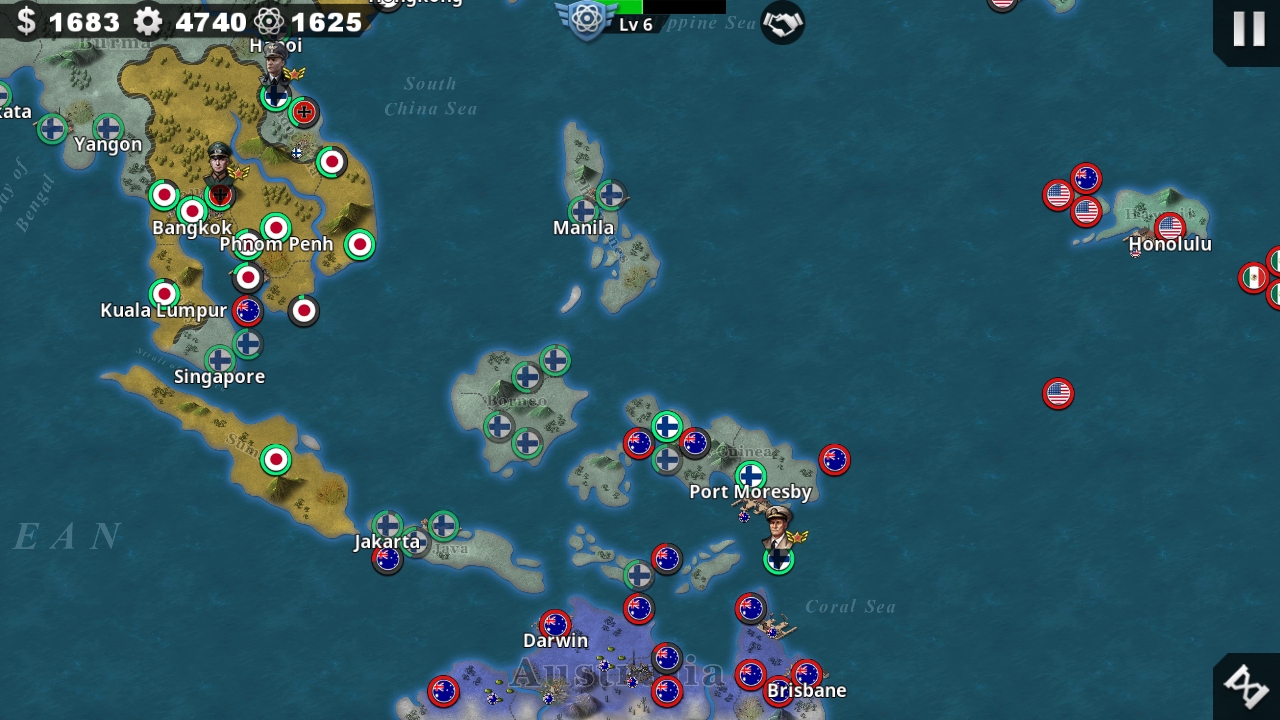 Finland dominates the world