Post by kanue on Sept 2, 2015 10:48:20 GMT
This is not a guide for a specific nation to complete the 1975 conquest but rather a tip on how to fight with the aliens. I am not sure if I miss something out so if you find or want anything please let e know.
First, we need to know the alien behaviors. These are what I learn from fighting aliens.
Aliens tend to follow a specific target

It seems that alien AI locks on a specific target. The target can be a city, a port, or an oil field. Once they are set on a target, they will move that direction and attack anything on they way. This mean that they are not loitering around killing your troops.
Aliens can be idle

Once an alien get to its target, it will either move to a new target or sitting there doing nothing. Unless you get too close to an idle alien, you can pretend that it is not there.
Aliens love to attack cities


If alien's target is one of your city, it will move directly to it. Once it gets close to the city with will attack the city. This mean that if you have a city within alien's attack range, your troops around the city will be safe. This behavior is very important.
Note:
These behaviors are purely from my observations and might not be how the alien AI really is.
===================================================================
Based on the behaviors above, here's the tricks to fight with the aliens.
Defending your cities from alien attack (and also kill them)
Since we know that aliens like to attack city, you can have one cheap disposable unit stand in the city. This will lure the aliens to focus fire on that unit. Then attack the alien with rocket artillery.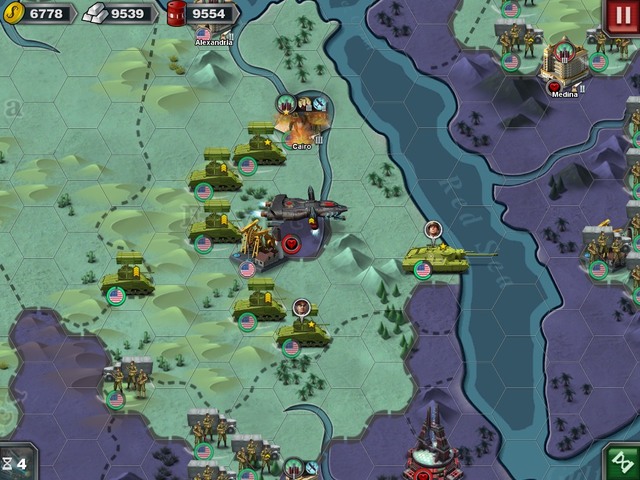 Above shows a picture of Alien Carrier attacking Cairo. I defend it with cheap infantry. The alien will ignore all of my rocket artillery and only attack the city thus I can bombard it without taking any damage (except for the poor infantry). Note that any infantry is a good tank against Alien Carrier. One light infantry can take at least 3-4 hits from it. However, The UFO is another story. It has Snipe (deal 75% extra damage on infantry) and Assault (can continue after a kill) skills so I can kill you infantry and capture the city in one round. So I would use field artillery to defend the city if the attacker is UFO. Also, if the unit defending the city is injured, move it out and create a new one. I find Alien Carrier is much easier to handle than the UFO. So if there are both UFO and Carrier, then kill UFO first as they have less health and are more troublesome.
Your Ally is defeated
When an ally of you is defeated, all the aliens attacked that ally will change to a new target. If the new target is your other allies then fine but if it is you then you are in trouble because it will be a lot of them come at then same time. So watch out when you see a prompt that tells you your ally is defeated. When that happens look the aliens around and see where they are heading so you can prepare your defense early on. A good way is to build a lot of rocket artillery. Since they likely come in pack, you can have a multiple hit on multiple targets with a pack of rocket artillery. This can thin their number really quick.
Destroying Alien Base
In the conquest, Alien Base are located 3 hex away from a city. Use this to exploit alien behaviors. If there is a unit in the city, the base will keep attack the city. Since all alien bases have a city within attacking range, you can nullify its attack by keeping an infantry in the city as a decoy. Light infantry can take 2-3 hits.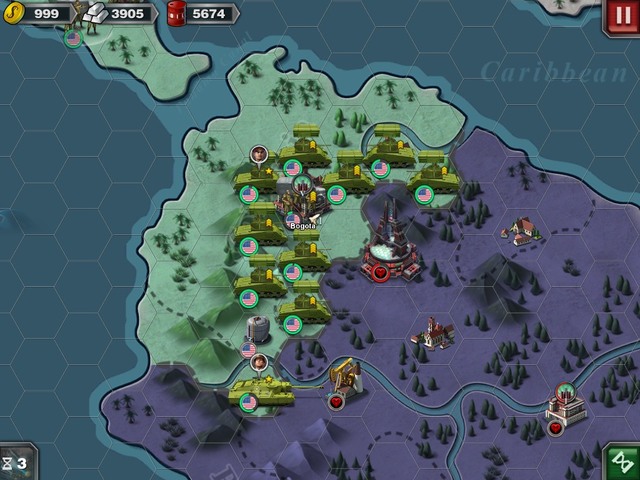 From picture above, the base will only attack Bogota so I just shoot it down with rockets. I keep Patton on super tank away from the base because his attack can be countered. Basically, you can destroy an alien base without your rocket artillery getting a scratch (poor infantry again).
Distracting alien
Since aliens will be fixed to their targets. You can take your time having motorized infantry move around capturing things, like oil fields or villeges. Basically, anything at all regardless of whether you want them. This is to add the number of targets for aliens to follow. For example, when a UFO comes to get oil field A, you run to oil field B and when it comes to oil field B you run around to oil field A. This is like play tag. You do it well, you can manipulate them to run around for a very long time.
Back dooring
I assume that you have PMI (Para-Motorized-Infantry). As I mention above, aliens will be fixed on something and that is not necessary their captured cities. In short, they do not defend their cities.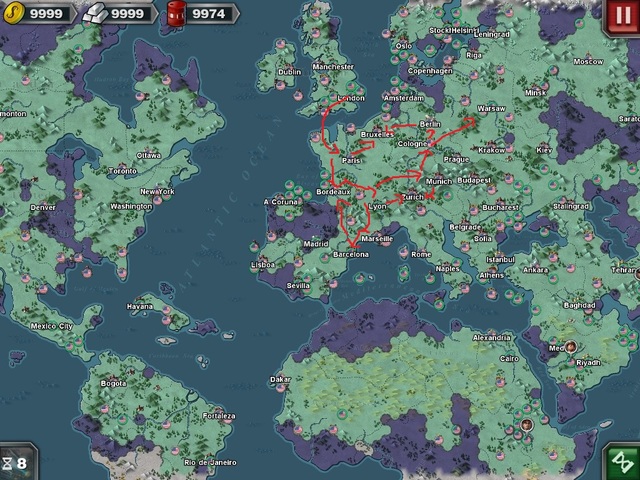 Above picture shows that, from Britain, I drop PMI around northern France and let them loose. The key is to look for any unprotected cities and capture them. You can ignore all the aliens that are in idle state (e.g. sitting in cities or oil field). Since PMI moves really fast and hits city wall hard so you can run around plundering cities in Europe. Do not afraid of aliens taking a city back. Let them be, it will be waste of resource defending it. you can run to more cities while they are busy taking the city back. This can boost your economy a lot as well as distract the aliens.
Nuking 'em
To capture a city protected by an alien, I find nuking it is more economically feasible. One nuke costs 300 gold + 160/180/210 gold for dropping it (depends on how). The total cost is 460-510 gold which is much cheaper than sending your troops. Normally, normal nuclear bomb is preferable because it is cheaper and takes less time to build. Hydrogen bomb is situational when aliens come in pack. I mainly use nukes for destroy aliens in cities before I capture them but I rarely use nukes for defending purpose because, with the strategy mention early, it is not necessary. Anyway, I nuke alien Carrier every now and then because I am lazy to kill it with rockets. So my suggestion is that nuke is optional in the early phase. I would rather spend my resources building rocket artillery instead.
Units against aliens

I heavily rely on rocket artillery and motorized infantry.
- Rocket Artillery: The most important unit to fight against aliens. Its attacks cannot be countered and it won't get hit as long as there is a poor infantry or field artillery in a nearby city.
- Motorized Infantry: Mainly use for guerrilla warfare. Hit and run and capture a city and run gain.
- Field Artillery: Only use for defending a city against UFO.
- Aircraft Carrier: This is optional but if you can build them in a pack then you can fight aliens easily. Anyway, by the time you can afford building them in pack, you are probably sure that you would win already.
- Super Tank: Not very useful as they are hit really hard and the attack can be countered. I put Guderian on a super tank for killing multiple weakened UFO. If you use it to fight with undamaged aliens, you would have the tank spend more time repairing in a city than fighting in the front line. I even put Rommel on a rocket artillery instead of a super tank.