Post by Jean-Luc Picard on Dec 3, 2016 6:15:20 GMT
Whew! That was fast! 46 turns, to be exact.
Well, here it is: How to unlock Sophia, Fatimah, and Maria (campaign permitting) with Russia 1806.
What you need:
1 medium-good cavalry general. I used Sulkowski (36 health, 1 regen)
A knowledge of tactics.
Order of Battle:
You will divide your troops into two Army Groups initially. Army Group A will consist of Kutuzov, Alexander, the troops in Poland, and the forces near Latvia. Army Group B will consist of Yermolov, and all troops south of Kiev.
Army Group A:
1. Forward, March!
Send the forces from Poland to the Rhineland. Secure Brunswick and Frankfurt. Meanwhile, send detachments for Munich, Zurich, and Oldenburg. Send Artillery to defend Dresden from Lannes/Savary (Lannes may go to Vienna, chase him from a safe distance and leave him to Radetzky). Note: Zurich will require Siege Artillery from Stuttgart.
Unless you move too fast inside Germany, Napoleon will move towards either Brussels or Britain.
DO NOT MOVE TOO FAST
DO NOT MOVE TOO FAST
DO NOT MOVE TOO FAST
If you did it right, the key battles will be over Brunswick (vs. Deroy) and Frankfurt (vs. Frederick).
2. Waterloo
With some Guards accompanying, send your generals for Metz, then Brussels and Nancy, then Paris. If you're lucky, Napoleon will try to retake Brussels/Metz instead of pursuing you. After Paris, mop-up France, while sending both generals towards Toulouse.
If you did not read the bold, red letters, you will be playing Austerlitz instead, which entails being actively crushed by Napoleon and Lannes with no hope of resistance. If you took my advice, the decisive struggles here are the capture of Paris and the killing of Napoleon (hopefully they are separate).
3. Peninsular War
Send the troops from Toulouse to Zaragoza. From there, focus on Albacete and Madrid, then Seville. Use armored cars, machine guns, and siege art. The decisive engagement of this campaign will be the fight in Zaragoza against Ferdinand VII, since Palafox hopefully died in Portugal. Yermolov may come to help.
Army Group B
1. Battle of Rousse
Send Sulkowski (on Double GCav), Yermolov, and their men for Bucharest. Leave Milinovic behind for now, and surround him with Guards when the time is right. After Bucharest, take Sofia.
Meanwhile, have your Navy sink the Turkish navy, then bombard Istanbul.
By the way, the name refers to an 1811 battle.
2. Siege of Constantinople
Send some guards and light cav to Plovdiv and Istanbul, using your victorious navy to burst a route in. After the inevitable victory, cross the Bosporus and land in Bursa. Build some troops in Bursa and 1-2 ships in Izmir, and use them to aid in Greece/Crete
3. Panslavia
With Yermolov, Sulkowski, and 1-2 Guards, take Uskup, Tirana, and everything in the Balkans. Send some guards for Athens, but not your generals. Athens will be tough, but you mustn't waste your Generals. After Athens, send the men to Crete
4. Undoing the Great Schism
Land your armies in Eastern Naples. Attack Bari, then Naples proper. Send Yermolov and co. to Florence and Venice (with some ships from the Balkan port), then Rome, then Genoa, then Turin and Milan. Perhaps, troops from the Zurich assault will join. After this, send them to help mop up Spanish forts.
5. Czar of Sand
Send Sulkowski to land in Algeria, plain and simple. He will kill the forts, and with some help the men will crumble into the sand before him.
Attached are war plan maps, and a rough timeline
.org/image/xn1nc1pud/]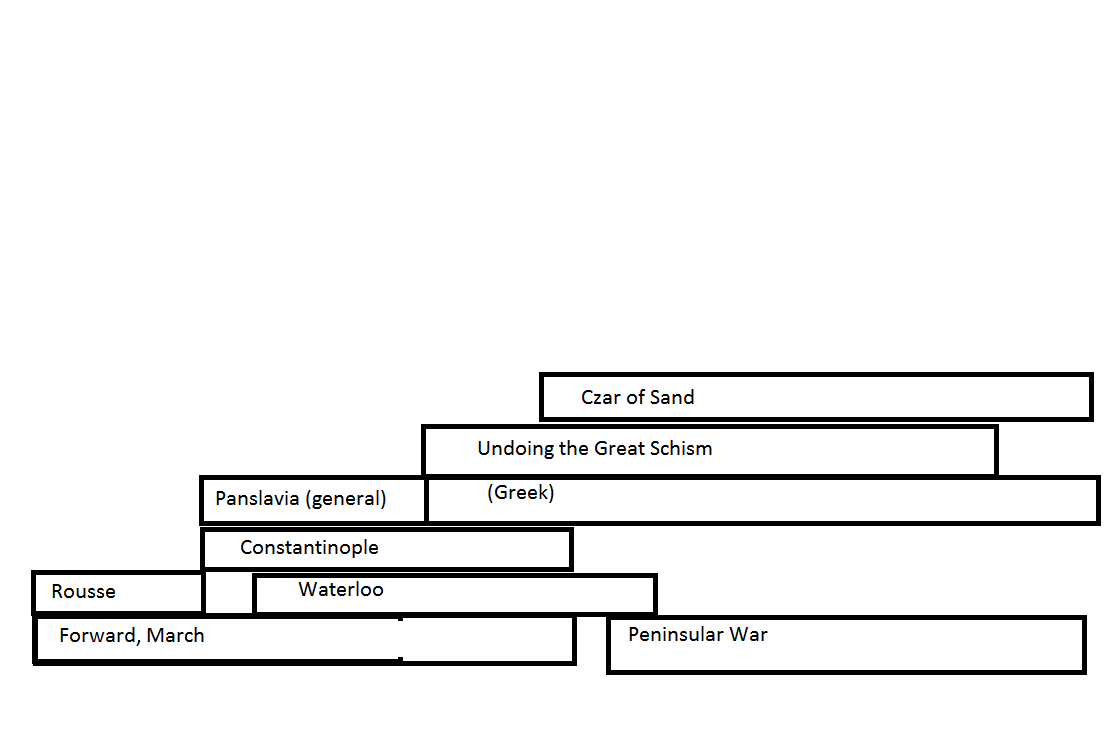 [/url]
.org/image/gapjcru43/]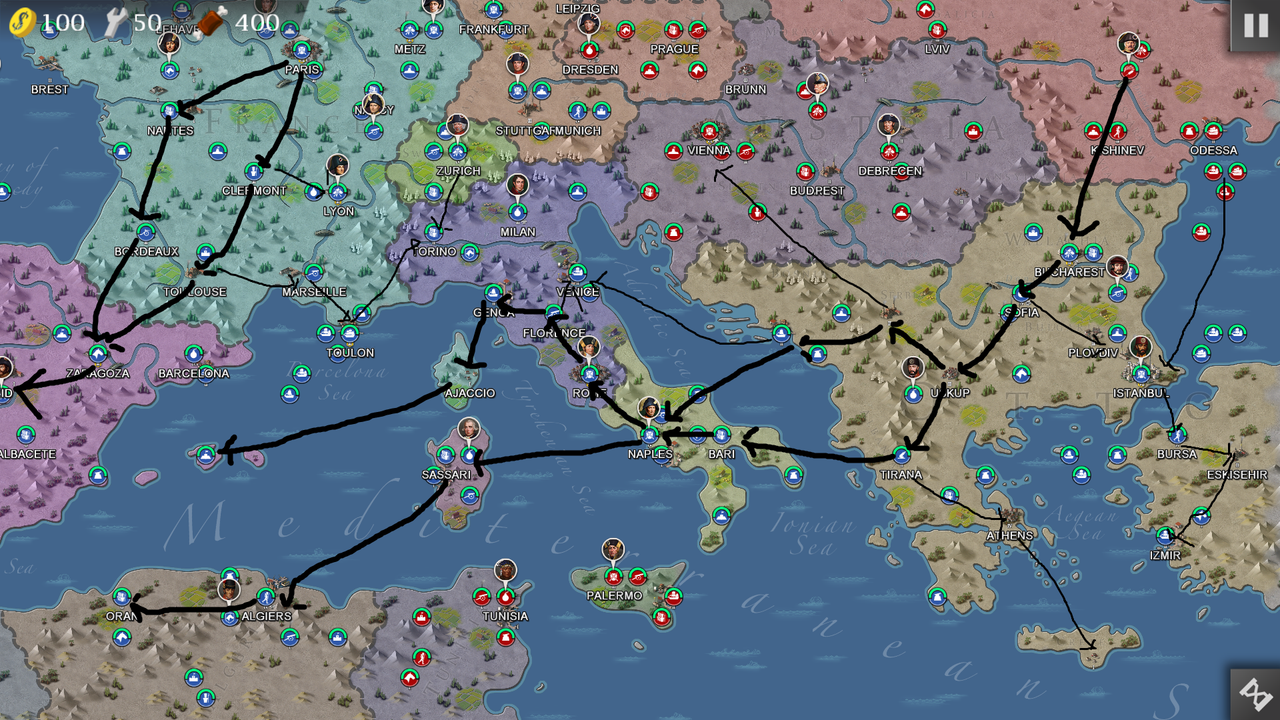 [/url]
.org/image/fmla7kks3/]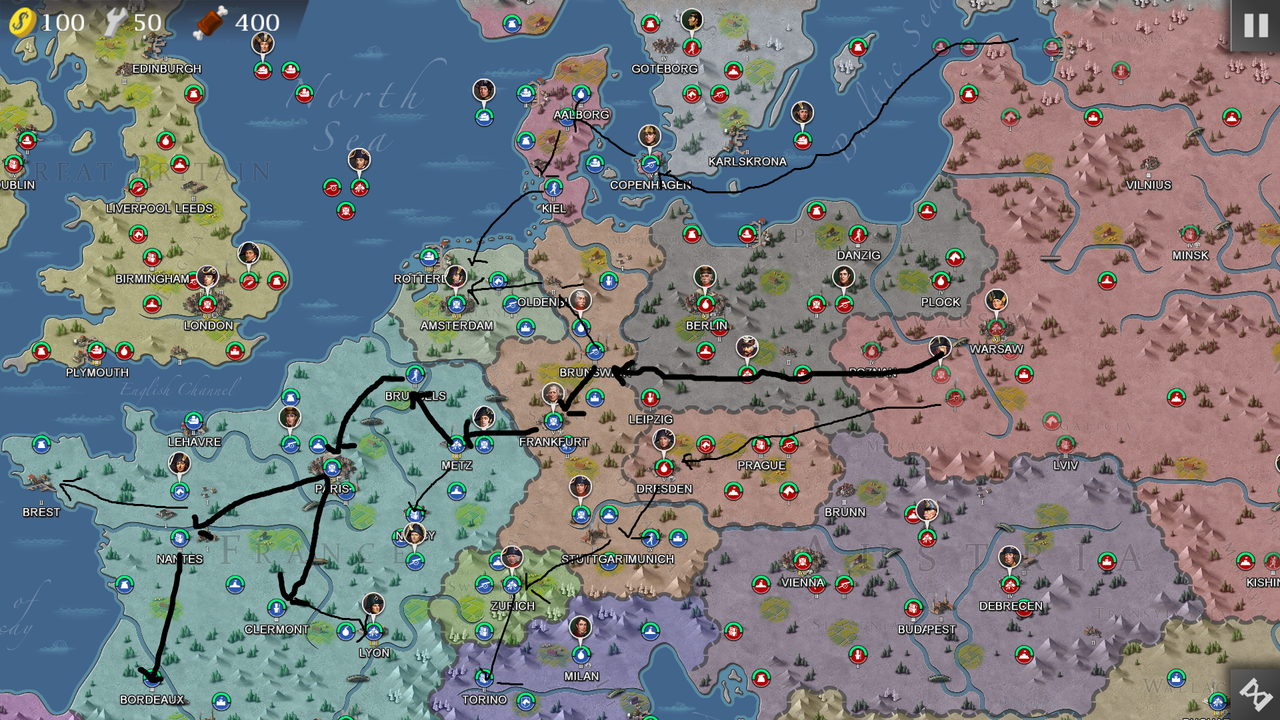 [/url]