Post by kanue on Oct 15, 2015 19:01:41 GMT
This guide might be a bit too late but I hope the it will be useful for those who want to get the 3 elite princesses. I write this guide based on what I did and it might not be the same as what others did and you can make any adjustment to suit your preference.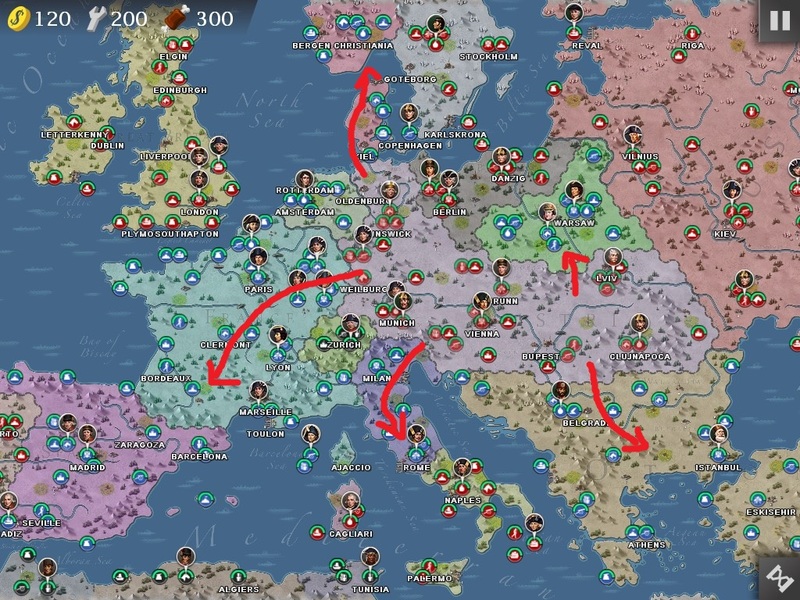 Playing with HRE in 1798 can be challenging because you have to fight many fronts; France, Italy, Denmark, Poland, and Ottoman Empire.. So, in this guide, I
will discuss each of them separately. You can think of them as separated campaign missions but with the shared resources. A careful management and a good distribution of your resources to each front are critical. Note that you are not gonna to the following in sequence, but they mean to take place concurrently.
The 3 Generals
- 1 good cavalry general. This is by no mean top tier general like Lasalle. I used Sakurako to get Lan so other tier 2 cavalry generals with decent rank should be good enough.
- 1 artillery general. I used Sophia.
- 1 cavalry/artillery general (up to you)
- Rank/Nobility of all generals should be high. (level 6-8 is recommended)
Items
- Pistol/Powder
- Warhorse (important)
-Tent
- Medikit (optional, I didn't use any)
Symbols In this guide
,
Red arrow = your main attacking route. Should involve your strong generals.
Orange arrow = your secondary attacking route. Weak or injured generals or just normal troops is fine.
Blue arrow = your enemy attack.
Green arrow = your allies attack.
Star = Major battle. A tough one. Strong enemy general is expected.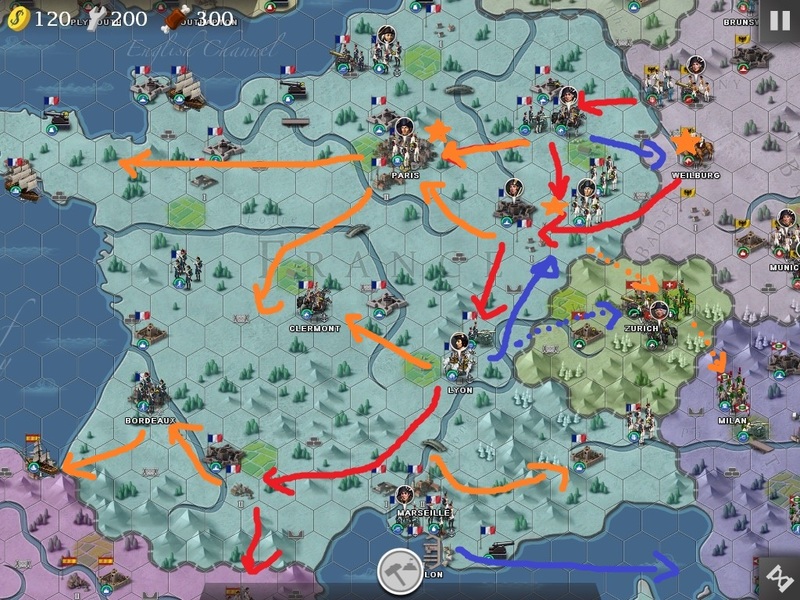 France

Generals: August I, Davidovich, Klenau, Rosenberg, and your strongest cavalry general.
- Dumouriez and some troops will attack Weilburg. Defend there and attack him with August I's cannon.
- I normally put my cavalry general on the starting heavy cavalry (no formation) so that she can take action right from the first turn, Other players,
andrei
for example, wait to build stronger cavalry unit before putting a general on. You can do whatever you like.
- Send the line infanfry to the other side of the river (preferably where a bunker is) becuase with Dumouriez come attacking the industry will be left unguarded. Use the infantry to capture it on the following turn.
- Build many artillery whenever your resource allows. They will be used to kill Moreau and Massena.
- Moreau is standing still so when Klenau and Rosenberg arrive, surround and kill him.
- Jourdan will be busy with the British so he won't be any of your trouble.
- Send your artillery across the river to bombard Paris. Massena will just standing there eating your cannonballs. Only the fort will be able to attack you.
- Send a detachment to Paris. Wait there until Messena is weakened or killed before capture Paris.
- At Paris, build more troops to mop up northern part of France. The British will help you.
- Desaix is unpredictable. He will either come help Moreau or attack the neutral Zurich. If it's the latter, you are lucky.
- If Desaix attack Zurich, send a detachment there to kill injured Desaix and capture Zurich. From Zurich, you have an option to send infantry ti help Italian front.
- You main force progress to Lyon, then a stable near Marseille, and then a small town next to a big fortress. You should make this quick. That's what a strong cavalry general is for after all.
- Right after capturing the small town, move south to Barcelona.
- Upgrade Lyon and the small town so that you can spawn more troops to attack Clermont and Bordeaux. Conquering these cities on the background. Don't stop your main troop. The main goal is to penatrate deep into Spain quick.
- You can send a detachment to capture Marseille. Marmont won't be there anymore. He should be in Italy with Napoleon.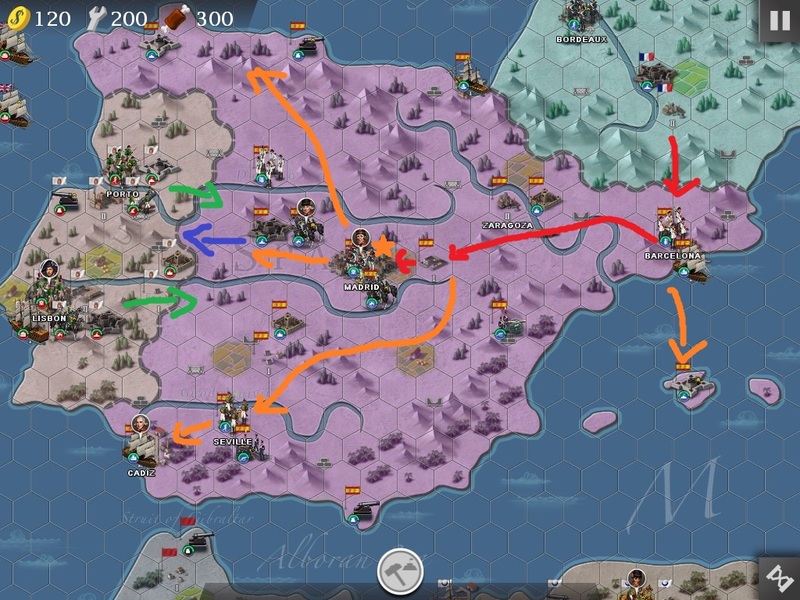 Spain
Generals
: At this point, you probably have you cavalry general and one or two other generals.
- Take Barcelona. I usually have the city by turn 12 or 13. You can use this number as a benchmark.
- Your main cavalry to directly to Zaragoza then the stable east of Madrid.
- Build ships from port near Barcelona to destroy the island fort. After that you can either use these ships to help in the south of Spain or Sardina.
- From the stable, spam cavalry to take Madrid.
- Now split your troop. Send one to help the Portuguese, one to clear out the forts in the north, and the last one to Seville.
- At Seville, you might need to build some artillery to kill Huarte at Cadiz.
- There are two unfortunate case. First Huarte leaves the port at Cadiz. Second, a heavy artillery goes attacking Morocco. Either of these will cost your several turns. What you can do is to pray that these won't happen.
- The Portuguese are not useful and you cannot count on them.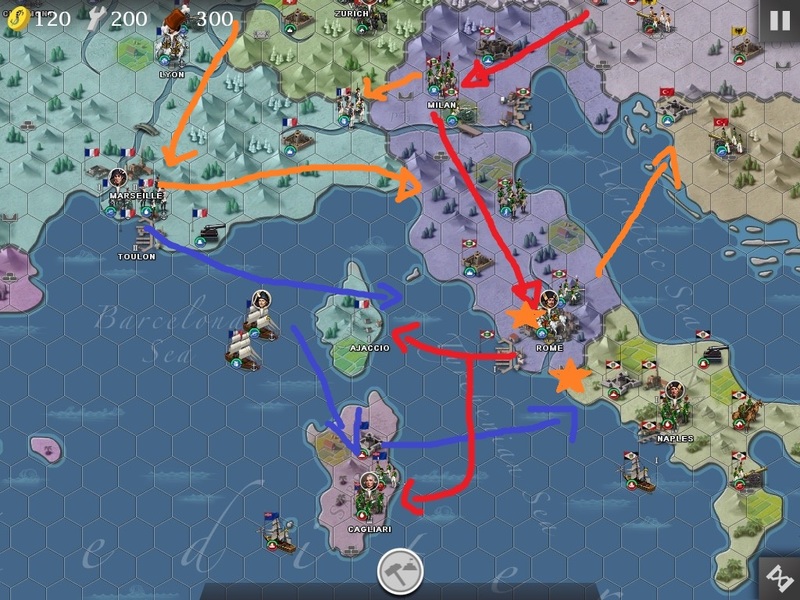 Italy

Generals: Archduke C., your Artillery general.
- I put my general on the heavy artillery you have from start.
- First, go take Milan, and if possible, the port in the east. You may move Archduke C and another infantry on the 2 grids next to both Milan and fortress. This way, you can attack Milan while be able to retialate the fort's attack.
- After taking Milan, go directly to Rome. Take a stable on your way.
- Send a detachment to capture a town west of Milan.
- Try to capture Rome with your artillery general, Archduke C, and cavalry from the stable you just captured.
- At this point, Napoleon should have defeated Sardina and he is coming for either Naples or you.
- To fight Napoleon, try not to let him land. Fight him while your artillery general is on land and he is in the sea. This should give you the upper hand.
- The most difficult thing in Italian front is Napoleon so after you kill him, you only have the mopping job
- From Italy, send a few units to capture Ajaccio and Cagliari.
- I also send some veterans from Italy to destroy Ottoman fort and a heavy artillery (around where Croatia currently is) since the troops attacking Ottoman Empire should be very busy.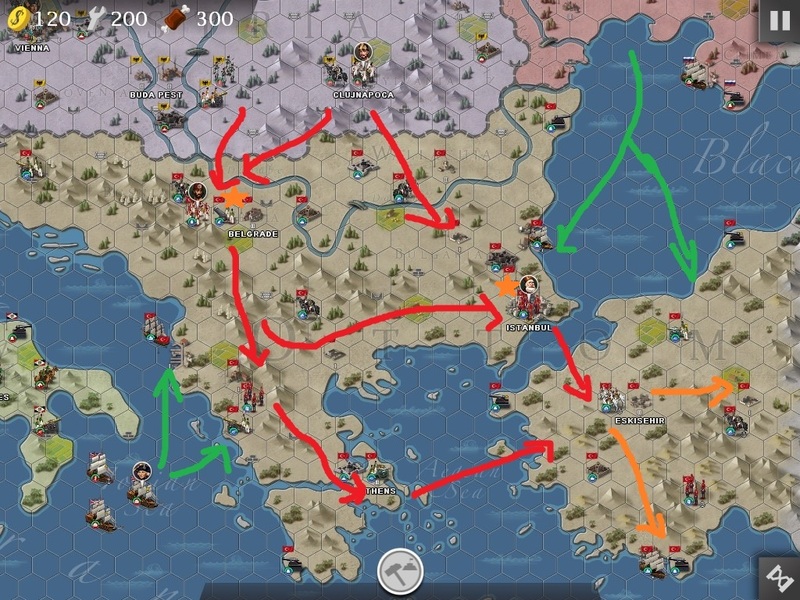 Ottoman Empire

Generals: Deroy, Lusignan, and your Cavalry/Artillery general (preferably with warhorse/geography).
- I bring Deroy and his troops near Lviv to fight in this front because you can play defensively in Poland but you need to be aggressive in Ottoman front.
- I normally use either Isabela or Ney with Warhorse here. The terrain is very mountainous so geography skill is a must.
- First, concentrate your force to attack Belgrade.
- Move south to capture an industry and a stable.
- Nelson usually attacks and kills Ottoman troops along the west coast. Send a unit to take the port if Nelson does not do that. I find that if Nelson takes the port, he usually stays there for the rest of the conquest. But is he does not, he will help attacking Athens.
- At this point split your troops into two. Send one to take Athens and another to Istanbul
- Meanwhile, upgrade Clujnapoca to max and build guard infantries. Wait till you have 2-3 of them then attack (and flank) the fort there in group. Then move south.
- The split troop and the one from Clujnapoca will join near Istanbul. Take the stable there and destroy the fortress.
- At this point, Russia usually has taken the port and help sieging Istanbul from the East.
- After taking Istanbul, cross to Asia.
- After taking Athens cross the Aegean sea to join with another troop at Eskisehir. But forget to send an infantry or two to destroy the coastal fort in the south of Greece.
- From Eskisehir, only mopping jobs are left. Go take a stable in the east and a port to the south.
Denmark

Generals: Hotze.
- The Dutch will attack Oldenburg. Defend it. No hurry on this front.
- If you move east or north too early, the Danish battleship will attack you and you don't want that. It's better to let them engage the Prussian instead.
- From Oldenburg. move north to take Kiel. And from Kiel, go directly to capture the port in the north.
- From the port you can spam ships to attack Norway.
- Most of the time, Sweden will help taking Copenhagen and also attack Denmark from the east.
- You need to send some land troop to Norway to capture cities.
- The Netherlands should be defeated by the British. You may send few infantries there to help and ensure the British victory. You may have an opportunity to capture Amsterdam as a reward. This would be optional tough.,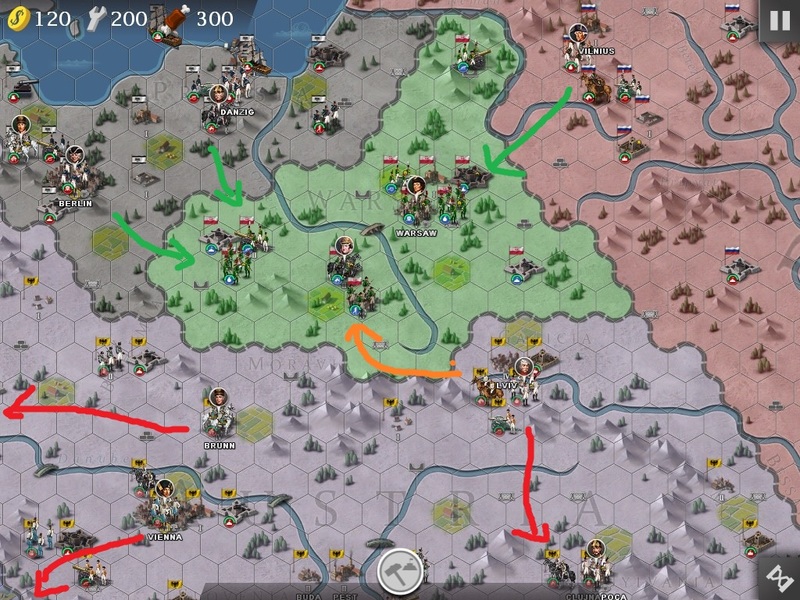 Poland

General: none
- You will be fighting defensively here. So using a few infantries is enough.
- Prussia will attack from the northwest but is unlikely to be able to do much. They are usually defeated by Dombrowski.
- Wait until the defense of a town south of where Dombrowski originally is, then send troops to capture it. You may build artillery at Pest and send them to help here.
- Clear up the unfinished jobs by the Prussian in the west of Poland. Don't worry about Warsaw, the Russian wil do the job. Have faith in
Suvorov
.
- Keep you eye on the heavy artillery in the north east of Poland. The Russian might spare it and if that happens you need to send a few infantries from Lviv to kill.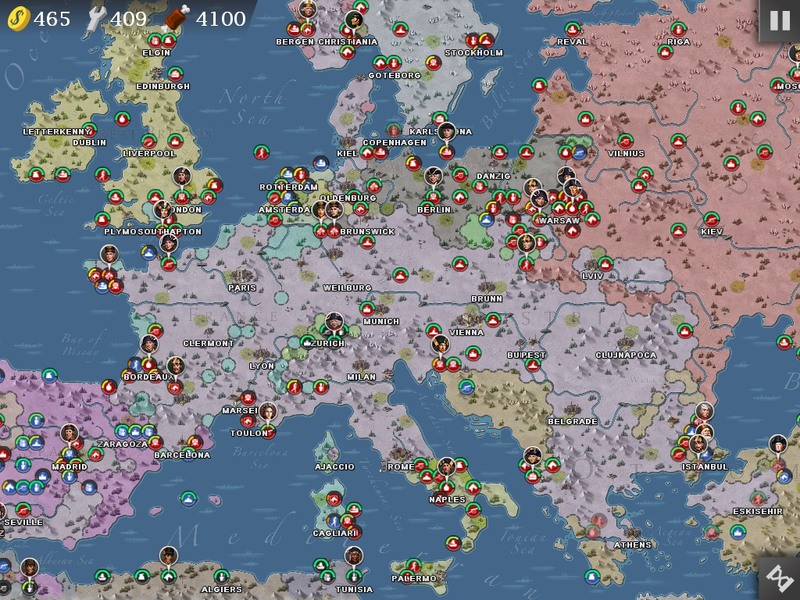 This is the map at turn 20. France, Poland, and Ottoman are almost defeated. Spain is the only enemy left. I spent the next 6-7 turns to defeat it. You can use this as a benchmark.
Building Your Economy

Upgrade cities early is crucial to your economy so you should start upgrading your cities as early as possible in order to guarantee future flow of income. The pay off will be substantial in a long run, and you will need that if you are going for the last 2 princesses.
- Upgrade cities early if you have resource.
- It is more feasible to start upgrading lv 4-5 cities first because the additional income is higher than small cities. More importantly, high level cities also give hammers (steel).
- As
andrei
points out, the pay-back period of upgrading cities is around 6-7 rounds for high level cities, 9 rounds for level 1 cities, and 8 rounds for industry. So you should not upgrade anymore after round 22-23 if you plan to finish the conquest at round 30-31. Consider the pay-back period carefully.
- Sometimes you might need to upgrade small cities to max because you need to build troops from there.
- Here's a list of cities that I usually upgrade; Munich, Brunn, Lviv, Clujnapoca, Kiel, Lyon, a small city next to fortress east of Bordeaux, Milan, Belgrade, Brunswick, the industry west of Weilburg (where Dumouriez is at the start), and Marseilles. These are just suggestion, though.
Economic Value of Cities
In order to have a clearer idea on the economic capability of a city and the feasibility for upgrade, I convert the hammer to gold at the ratio of 2 hammer for 10 gold (the rate that a 5 stars business general gets)
City
: upgrade cost = 65 gold
level 1: 3 gold
level 2: 6 gold
level 3: 12 gold
level 4: 20 gold, 2 hammer = 30 gold
level 5: 30 gold, 4 hammer = 50 gold
level 6: 45 gold, 6 hammer = 75 gold
level 7: 60 gold, 8 hammer = 100 gold
If you start upgrading a level 1 city at round 1, you will get a max level city at round 6, your incremental resource will exceed the cost at the beginning of round 9.
If you start upgrading a level 3 city at round 1, you will get a max level city at round 3, your incremental resource will exceed the cost at the beginning of round 5.
Industry
: upgrade cost = 60 gold + 20 hammer = 160 gold
level 1: 4 hammer = 20 gold
level 2: 8 hammer = 40 gold
level 3: 12 hammer = 60 gold
level 4: 16 hammer = 80 gold
Given that resource can be traded with 5 stars business general, upgrading level 3 or higher cities is very rewarding. The pay-back period is only 3-4 rounds. Also, upgrading a city is more economical feasible than upgrading an industry. This means that you should not upgrade industry and better keep the resource for upgrading cities unless you need to hammer build your troops. Note that this is only a discussion in economical sense. In a real conquest, there are many circumstance that you should also upgrade industry.
Additional Tips
- Main troops advance as fast as you can. Build units from captured cities and use them to occupy the rest.
- Save as you progress so that you have many checkpoints for later replays.
- Swap items for to maximize the effectiveness of your general. e.g. from movement item to attack item then to tent.
- Use medic kit only when you are certain that the conquest will go well.
- Use business general to trade surplus resource for a deficit one.