Post by Saltin on Oct 20, 2017 2:53:45 GMT
The staff is happy to recognize those members that have achieved exceptional skill in speed conquest mode for any of Easytech games. I think this not only promotes pro-play but could also potentially even help average players focus more on attaining maximum efficiency play style (ie min-maxing) .
So then EFC World Fastest Conqueror group is born!
Its very first member is none other than World Conqueror 3 player
Max Otto von Stierlitz
who has demonstrated some excellent skills and record breaking numbers at the conquest level.
Read more
In this thread
---
First EFC player to join the [World Fastest Conqueror ] group WC3 Gaming.
---
It didn't take long for World Conqueror 4
soonerjbd
player to show us in details some of his very fast WC4 conquests and claim his spot.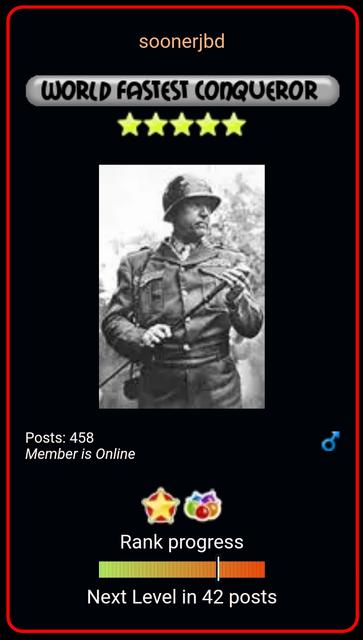 No surprise there, from one of WC4 helpful members and finest conquest players
---
Eligibility for joining:
The group is open to all players wishing to join that have attained a record breaking number in the conquest mode for any of Easytech games. We are doing only vanilla games for now but there might be a different project later on for game modifications . Records will be verified by the moderator of the particular game you are applying for. If the moderator is temporarily not available a substitute staff will fill in.
Note: if no one has done or published results of the conquest you submitted then the existing group members in consultation with the staff will themselves decide if the conquest is fast enough to qualify. That is to say if none ever posted a conquest with Mongolia before and you post a 120 turns conquest you will probably not be eligible to join because 120 might not be considered fast enough even if no one has done it before.
The verification process:
The eligibility process has been formalized and so proof of deed will be asked of any player wishing to join the group.
2 methods of proof will be accepted for the conquest records, screen shots or YouTube videos:
A) Screen shots schedule as follow:
*Less than 20 turns : Minimum screen shots every 3 turns.
*Less than 30 turns: Minimum screen shots every 4 turns.
*Less than 40 turns: Minimum screen shots every 5 turns.
Ect..
You must include the final turn screenshot (The victory pic). You are also encouraged to describe any turn where massive luck was involved or if you had to reload several times on a particular turn to achieve a particular goal.
*Include comments on key moments of the conquest.
*Include your generals used.
B)If you elect a YouTube video method for proof instead then just post a link to it, no need for screen shots in that case.
Clarification note: The group will feature our own forum player base exclusively.This will be EFC (Easytech Fan Community) achievement group, records made elsewhere will not disqualify you. Meaning all records are compared between our own members.