Post by saltin on Mar 19, 2015 4:11:10 GMT
Bellow is an example of a typical "Grind":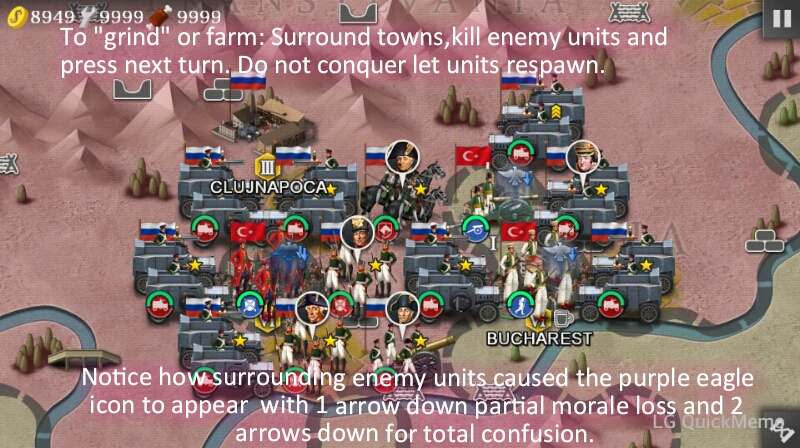 And this below is a defensive North-South "Iron wall":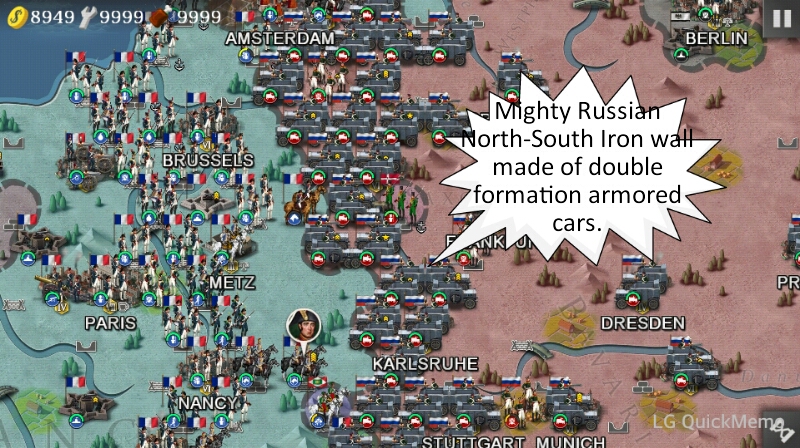 ---
Grinding for medals and Ranks
Here is a good way to get faster medals and at the same time rank (give experience) to your generals, this is all done in conquest mode but it really is for the campaigns which are much harder. This conquest is done in such a way as to NEVER win, the goal is to get a good game save that we will use over and over.We want to setup this save with primary objective EAST with all 3 of our general surrounding 2 towns,and killing and farming respawn but never conquer the towns. On the secondary objective we will setup an iron wall of armored cars dividing Europe into East and west. Once the wall is up we will completely ignore it and we just let the enemy smash on it and give us some medals too. (remember you can earn medals on defense too
Ok here we go:
Start with europe 1815, russia is perfect for this,start upgrading all of your towns 1st then all of your factories too, immediatly take all your units south, some towards the ottoman (but leave them alone for now) and some towards Austria,you 1st goal is to sabotage and steal from your ally Austria to make sure they dont interfere with France or the ottoman. After you steal 2 times from them they turn neutral you can steal 1 more time from them without them declaring war. Upgrade everything.Now plant some units around their remaining towns and on top of all of their farms, wait a few turn they will starve from lack of food and you can then just finish them off. When Austria is gone and you upgraded everything move into the wallachia (north ottaman territory) you want to conquer all of wallachia territory, destroy the fortress then give it all back to the ottoman except Clujnapoca as you need it to spawn armored cars. After the ottoman take them surround Bucharest and the other town and factory with armored cars. You are now done with the eastern objective, all you do there from now on is have your 3 generals kill the ottoman respawn over and over, one town shoud respawn purple eagle double moral down unit and the other 2 should be single moral down.Remember do not conquer, just kill the units.
Now for the Western objective: between Russia and austria towns and factories you should be able to buy an armored car (in formation always) every turn. Pick a point somewhere west of austria and simply make a long wall of armored cars North/South this will take several turns to build once done ignore it, the enemy AI France will keep sending lots of (mosty weak) units and you will earn a few medals here and there without even looking.
Once this is all set up all you do is kill respawn with the 3 generals and press next turn. Your generals will eventualy get so strong as to 1 shot the weaker units, at that point SAVE the game and you can keep reloading the same game to train your generals more and more. This works because general rank and medals are persistent and don't depend on saves/loads.
Enjoy your medal farming, feel free to ask any question if something is not clear, or just have a comment to add.
Notes:I have posted this method on a different site before under the nick of J.themonk,it is proven to work and deliver good results but it is targetted towards intermediate players with access to a couple generals.
New players can still use this method but should just surround a single town so it is easier and farm that way.
Advanced players with access to many stronger generals can work the system much more efficiently by picking a weak 2 stars country,this would let them make a single save and train 6 generals at the SAME time.Strong countries like Russia only allows 3 generals max instead of the possible 6.
My favorite set-up: Europe 1806-Country Saxony. Let half a dozen generals loose on the world!
Think about getting items like the crown,and the "on war" book,these help a lot while grinding.If you have a general that has merchant skill at 5 stars you can use him to sell them later on (after you are done training your generals) at same price that you bought them in campaign stores.